Easy Spicy Scallop Recipe
Easy Spicy Scallop Recipe.
Suka banget makanan yang satu ini, rasa daun ketumbarnya begitu fresh. Kalau kalian nggak suka daun ketumbar, bisa diganti dengan daun seledri kok. Daun ketumbar banyak digunakan untuk masakan Thailand. Resep ini juga kubikin gara-gara sehabis makan di restaurant Thailand di Victoria Park rasanya teringat terus hehehehhe….monggo dicoba yah !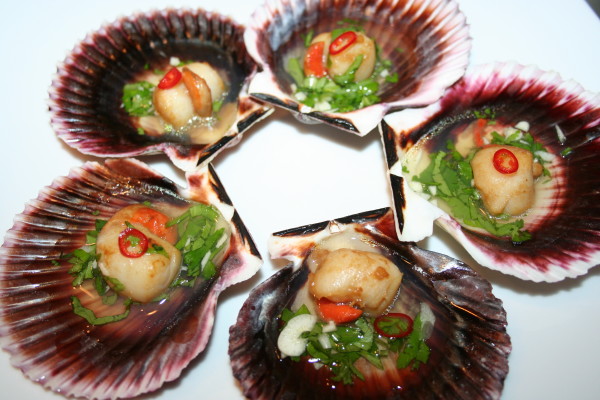 Ingredients/Bahan:
– 1 Adventurous husband/partner who loves chili
– 12 scallop half shell
– 1 garlic, minced
– a dash of olive oil
– a pinch of salt
Sauce Ingredients:
– 50ml hot water
– ½ – 1 small red chili
– 1 garlic, minced
– 1 tbs chopped coriander leaf
– ½ – 1 tsp brown sugar
– 2 tsp fish sauce
– a splash of lemon juice
Method:
-Mix all the sauce ingredients.
-Separate scallop from the shell (wash the shell with hot water)
-In medium heat, sauté minced garlic, add scallop, a pinch of salt, cook for about 4 minutes, turn off the heat.
-Place the shell into a plate, add 1 scallop each, add the sauce.
VOILA…….!!!!!!! Entre is ready !!!!