Sweet and Sour Eggplant Recipe
I can say that this sweet and sour eggplant recipe is a non boring recipe. You can serve this eggplant with rice or serve it as one of tapas dish.
Tapas is a Spanish language meaning a wide variety of appetisers, or snacks. Tapas dishes can be served cold (such as mixed olives with cheese) or warm (such as chopitos, or other fried foods). It got similar concept as dimsum, where food is serve with small portions but very diverse. In Spain, the average restaurant tapas provide a minimum of 12 tapas menu. In some Central American countries, snacks like these are known as bocas. In Mexico, a similar dish called "Botanas." Untuk versi bahasa kunjungi Resep Tumis Terong Bawang Putih (rasa asam manis).
There is a lot of competition with tapas throughout Spain. But there is only one national tapas competition that is celebrated annually in November. Since 2008, the city of Valladolid and the International School of Culinary Arts has celebrated International Tapas Competition for Culinary School. Various schools from all over the world come to Spain every year to compete to win the best tapas concept. Interesting isn't it? Just imagine if you visit Spain at the same time as when they held the competition. Seriously I wish I could do that!!!
Anyway, back to this easy sweet and sour eggplant recipe, I suggested you roast the eggplant as if you fry them you might use more oil. Just a healthier option

Sweet and Sour Eggplant Recipe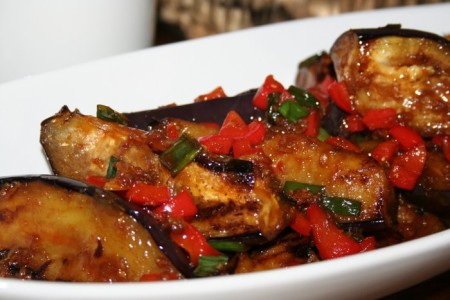 Ingredients:
½ kg eggplant purple, split and cut to your taste
4 cloves of garlic, minced
1 medium red bell pepper or capsicum, chopped
1 full tbsp grated ginger
1 spring onion, cut into small pieces
2 tablespoons soy sauce
2 tablespoons balsamic vinegar (if you do not like sour taste, I suggest to use 1 tablespoon only)
1 tea spoon sugar
Salt to taste
Vegetable oil
Cooking Instructions:
Fry the eggplant with a little bit of oil until cooked, set aside. (you can bake it for a healthier option)
Heat 2 tbsp oil, sautee garlic, chopped red peppers or capsicum, grated ginger, and spring onion until wilted and fragrant.
Add soy sauce, balsamic vinegar, salt and sugar, stir again until all ingredients mixed well.
Taste, add sugar or salt if still lacking in taste.
Add cooked eggplant stir well until the eggplant is coated is sauce.
Serve with your favourite steamed rice.