Takeaway from Harbour Seafood Restaurant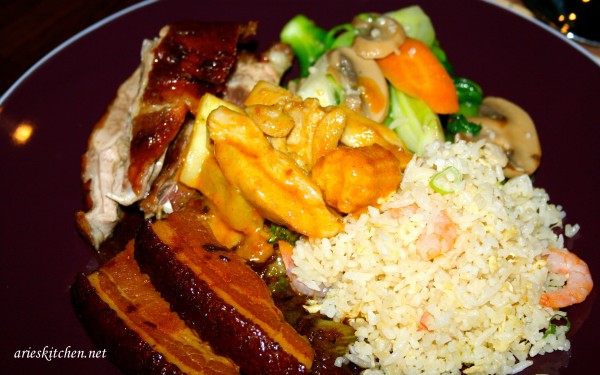 Takeaway from Harbour Seafood Restaurant.
OMG !!! I never get enough of this Chinese  takeaway. Since they're under the new management the food is absolutely divine. The taste is very consistent as I have always order the same dish over and over again.  On my plate I have got fried rice, roast duck, pork belly with wasabi cooked in clay-pot, chicken satay, and mix veggies with garlic sauce. So glad to have this restaurant around. Very handy when I have no time to cook or just feel like Chinese takeaway at some night.
The fried rice is fluffy and not oily like most of fried rice I had at Chinese restaurant before. Most dish are cooked just right and very satisfying. Never once I had my veggies over cooked, they always fresh and crunchy the way I like it :). And the price is very reasonable, each dish cost between $12 to $16 except for few large dish like half roast duck, etc.
I rate the food at Harbour Seafood Restaurant 9 out of 10, but for the place it self I rate 6.5 out of 10 as it's very plain decoration. I can not feel the "Chinese"-ness or the culture shows in the restaurant. I think that would be awesome if they place some old fashion Chinese cooking ware or more pictures. I keep coming back to this restaurant \0/