Tempe Penyet With Garlic Sambal Recipe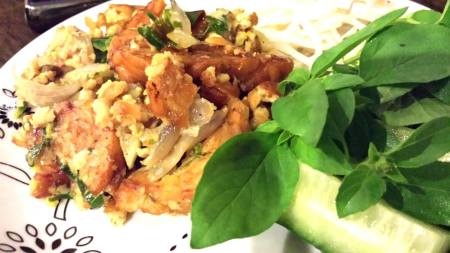 Tempe Penyet With Garlic Sambal Recipe.
Untuk versi bahasa kunjungi Resep Tempe Penyet.
Tempe Penyet is one of East Java province's famous dishes. Tempeh is made from soybeans, with a controlled fermentation process that binds soy beans into a cake form. It can have a very strong smell but the taste is just delicious


The name Penyet came from Javanese word that means "squashed". This refers to the tempe mixed with sambal being  a little crushed before serving. If you want to taste something different, this dish is worth a try especially if you like authentic Indonesian food.

Tempe Penyet With Garlic Sambal Recipe

Ingredients:
250 gr tempe, slice roughly 2 cm thick
2 garlic cloves, crushed
½ tsp coriander powder
¼ cup water
A pinch of salt
Cooking oil enough to fry the tempe
5 garlic cloves, halve
7 Asian shallots (70gr), roughly cuts
5 red or green chili (add more if you like spicy)
1 big kafil lime leaf, thinly sliced
A pinch of salt
Salad:
Basil leaf (I prefer Indonesian basil for this dish)
1 cucumber, sliced
Bean sprout
Cooking Instructions:
Mix fried tempe spices together (garlic, coriander powder, water and salt), marinate tempe with the mixture for awhile (5 minutes).
Heat the oil, fry all tempe until golden brown, set aside.
Heat 1 tbs oil and fry all the sambal ingredients except sliced kafir lime leaf until garlic soften.
Transfer the light fried sambal ingredients into a mortar, add sliced kafir lime leaf, ground until sambal ready (looks like paste but leave chunky bits for taste)
Add fried tempe into mortar, mix with sambal while pressing down little bit to leave tempe in a big chunks.
Serve with rice together with the salad.