Thai Beef Salad Recipe.
What a good stuff to start the long weekend

Thai beef salad for dinner, Ice cream and pop corn is ready for the movie night. Untuk versi bahasa kunjungi Resep Thai Beef Salad.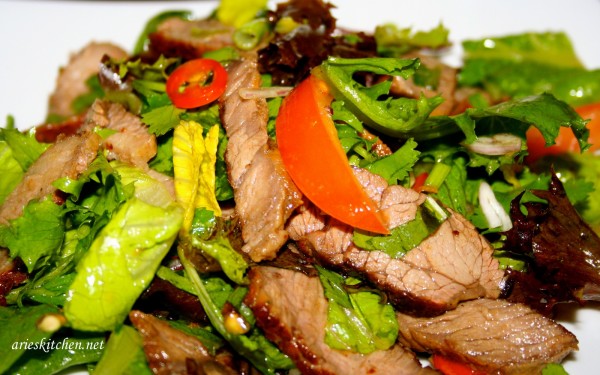 Thai Beef Salad Recipe

Ingredients:
350gr beef fillet
salt and pepper
1 tsp olive oil/butter
150 gr mix green salad
1 big tomato, slice into small pieces
2 tbs chopped mint leaf
3 tbs chopped coriander leaf
1 spring onion, cut into 1cm long
1 small shallot, thinly sliced
Salad dressing:
4 tbs extra virgin olive oil
1 tsp dijon mustard
1 red big chilli, thinly sliced
1 tbs sugar
4 tbs lemon juice
2 tbs good fish sauce
Mix all dressing ingredients. Set aside
Cooking Instructions:
Season the beef with little bit of salt and pepper.
Heat olive oil/butter in a pan, cook the beef the way you cook steak until the beef cooked.
Place the cooked beef on top of paper towel, pat, until no juice/liquid.
Slice the beef long thin/stir fry style.
In a big bowl, add green salad, tomato, mint leaf, coriander leaf, spring onion and shallot.
Add the sliced beef. Pour the salad dressing, mix well. Enjoy the healthy stuff.