Vegetarian Pasta Recipe.
Untuk versi bahasa kunjungi Resep Pasta Untuk Vegetarian.
Came back from Sydney I found lots of vegetables in my fridge so better do something about it before all goes to my worm farm. Vegetarian Pasta !
I made this meal many times but never really write down the recipe as I thought too easy but I can tell you that it's so tasty. You can change the veggies to the variety you like, I cook this meal based on what I found in the fridge so really, the veggies can be different every time.
Ingredients:
-500gr rigatoni pasta (or any type pasta)
-3x 400gr tin chopped tomatoes
-3/4 cup of tomato ketchup
-1 big zucchini, diced
-2 medium egg plant, diced
-1/2 big red capsicum, diced
-4 stalk celery, slice into small pieces
-6 yellow squash, sliced
-2 medium onion, minced
-8 garlic clove, minced
-1 tsp dried oregano
-1/2 tsp pepper
-1 tsp salt (optional)
-olive oil
Method:
-Heat the olive oil in a large pot, sautee garlic and onion until soft.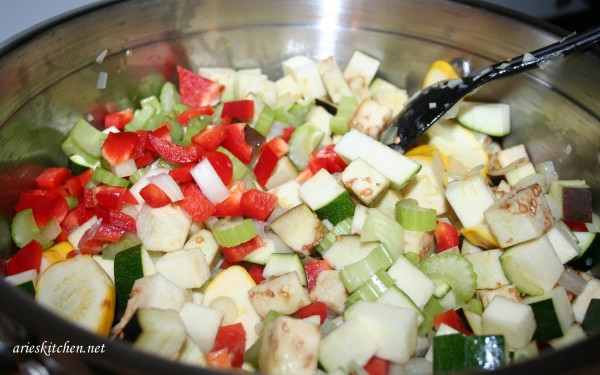 -Add all the chopped vegetables, stir well, put the lids on, cook for 5 minutes (stir occasionally).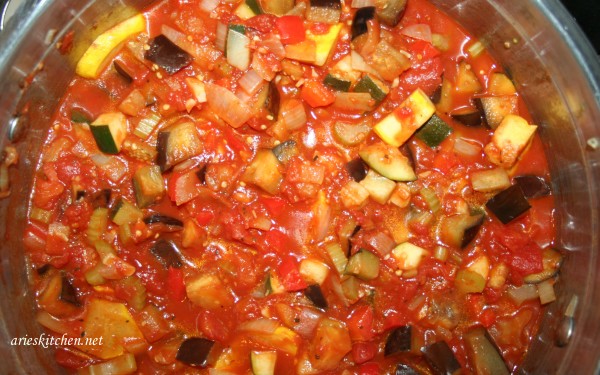 -Add tin chopped tomatoes, tomato ketchup, oregano, salt and pepper, mix well. Put the lids back on.
-Cook further in a low heat for about 15 minutes. Stir occasionally.
-In a mean time, boil water in a pot, add 1/2 tsp salt to cook the pasta. Once the pasta cooked, drain and serve with mix veggies in tomato sauce. You can mix them together or pour the veggies on top of the pasta.
Happy cooking \0/
*serve 8*