Fried Duck Recipe with Green Chilli Sambal
Indonesian Fried Duck Recipe with Green Chilli Sambal (chili sauce).
Untuk versi bahasa kunjungi Resep Bebek Goreng Sambal Ijo.
Love it, love it, love it !
This is my second fried duck recipe and I'm extremely happy with the result, I feel like I'm back home. My first duck recipe was Bebek Goreng Sambal Bawang Putih Enak ~ Fried Duck with Garlic Sambal, I used slightly different spices to cook the duck this time, simple and easy. The spices are just enough to make you feel warm and my family love it too much.
For the main sambal ingredients, I use green chilli and shrimp paste, not too much, just enough for taste.
If you want to learn how to make an authentic Indonesian dish, you can start with this one 

Ingredients:
1 duck, cut in 8 pieces (as you like)
2 tbsp of lime juice
3 bay leafs
2 galangal, crushed
500 ml water
Paste:
2 tsp whole coriander (1 tsp full of coriander powder)
5 garlic cloves, crushed
1 cm fresh turmeric (½ tsp turmeric powder)
1 cm fresh ginger
1 sdt salt
Ingredients for Green Chilli Sambal:
10 big green chilli, chopped
5 chilli padi, chopped (optional as it's very spicy)
4 Asian shallots (1x big French onion), chopped
3 garlic cloves, chopped
1 medium red tomato, chopped
1 tsp shrimp paste or terasi
50 gr brown sugar
Salt if needed
Raw salad for serving:
1 cucumber, sliced
2 red tomatoes, sliced
Indonesia basil
cabbage
Method:
-Place the duck meat in a non-stick pan or pot with a lid.
-Massage the duck meat with lime juice, let it sit for 10 – 15 minutes.
-Add bay leaves, galangal, water, and the paste, cook in a medium heat until liquid is nearly gone and duck is cooked.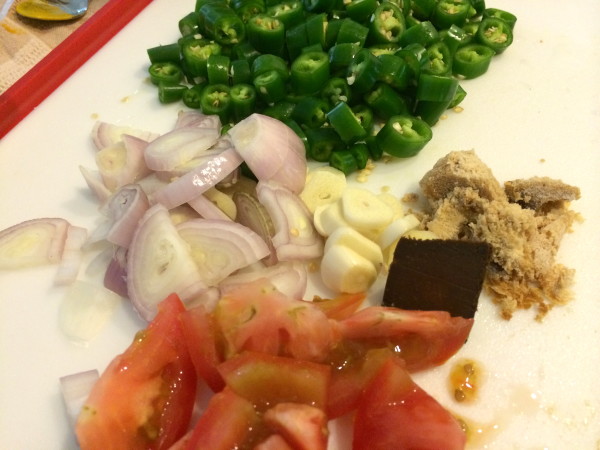 -In the meantime, get the green sambal ready.
-Sautee all sambal ingredients until the chilli is a little bit soft.
-Place sautéed chilli in a mortar and make  a chilli paste/sambal but leave some chunks of chilli bits (like the photo). Set aside.
-Fry the duck (for healthier choice, you can do light fry rather than deep fry) until the duck turn to golden colour.
Serving Suggestion: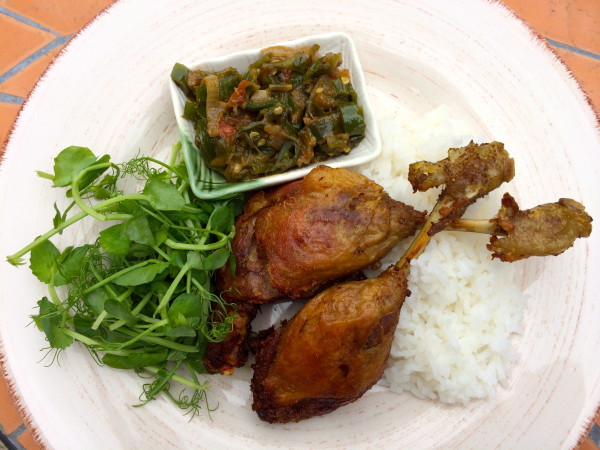 This type of fry duck normally served with white rice and raw salad like cabbage, raw tomato, basil leaves, cucumber, bean sprout, etc. But I use whatever I had left in the fridge as I do not like to waste food. So I use snowpea tendrils and the taste is as good.
Tips:
If you still have left over sambal, don't waste it by throwing away as you can place in a jar and put it in the fridge or even freezer for the next use.
So, what do you think about my fried duck recipe ?
*serve 4 – 6*