Modern Rendang Recipe ala Arie
Easy Rendang Recipe ala Arie.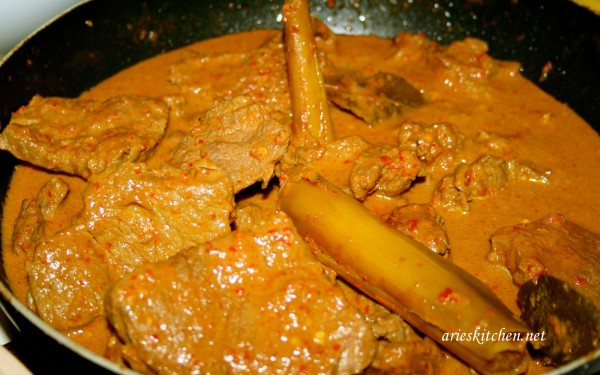 There are so many ways of cooking this beautiful meal. If last time I made the recipe for the old fashion way of cooking Rendang,  this one is the easier way. More practical basically, the cooking method I mean.  Yum !!!
As we all are busy with day to day activity we wanted everything done in a easy way. I hope you enjoy this easy rendang recipe

Modern Rendang Recipe ala Arie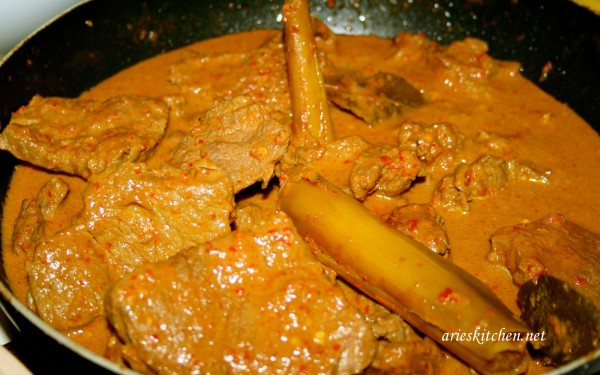 Ingredients:
1,5 kg lean beef, slice 1 cm thick around 5cm diameter (or cut into big chunk)
400 ml thick coconut milk
2 lemon grass, crushed (white part only)
3 cm galangal, crushed
3 bay leaf
2 turmeric leaves (optional)
2 kafir lime leaves
1 tsp sugar
Salt
5 tbsp roasted grated coconut
Rendang Paste:
16 asian shallot or 2 big french onion (250gr)
8 garlic clove
6 big red chilli
1,5 tbs coriander powder
2 cm fresh ginger
1 flat tsp turmeric
3 tbs cooking oil
Cooking Instructions:
Place the mean in a heavy base cooking pan (with a lids).
Add the paste, using cooking glove, mix the meat and paste well.
Add galangal, lemon grass, kafir lime leaves and turmeric leaves (if use any) mix well, put the lids on.
Turn the heat in on, set in a low heat.
Continue cook the rendang until meat tender (stir occasionally). Add water if needs too.
Add coconut milk, and then the roasted coconut, stir well. Put the lids on. Continue cooking in a low heat until the coconut mix well with everything else.
Serve Rendang with steam rice.