Yogyakarta Palace, January 2014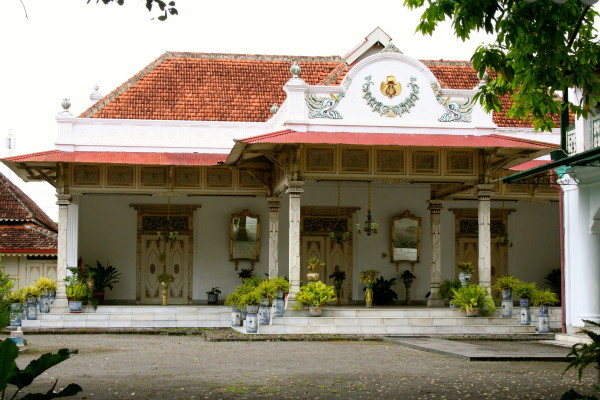 Yogyakarta Palace, January 2014.
Untuk versi bahasa kunjungi Keraton Yogyakarta.
Just like Borobudur Temple, this place is a must visit when you go Central Java. Yogyakarta Palace is like a living museum as some of the Royal family are still living in the complex. Completed in 1790, the Palace buildings are definitely well kept and well looked after.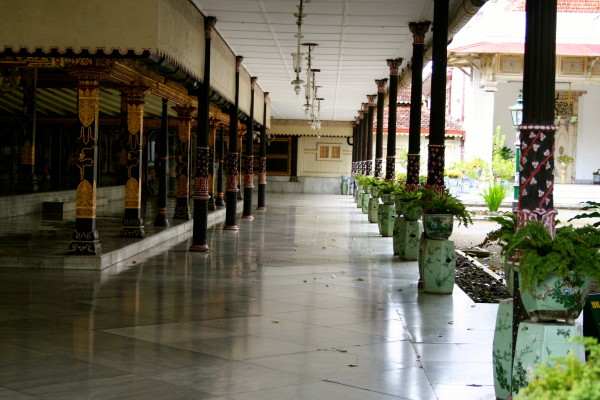 I was curious when I spotted two different types of marble lays in the palace. I then asked the tour guide if it's local or imported marble and I was surprised that the light marble came from Tulungagung (my hometown) and the dark marble was imported from Italy.  Always good to know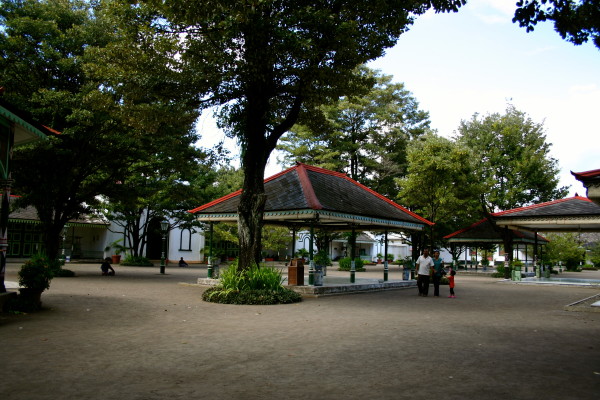 As soon as you enter the palace, you will feel the difference from the busy streets.  It's calm, relaxing and quietter compared with outside the Royal complex. The gamelan set (Javanese music instruments), lamp poles, gazebo, ceramic pots given by the Royal guests from China and Holland, everything was mesmerising.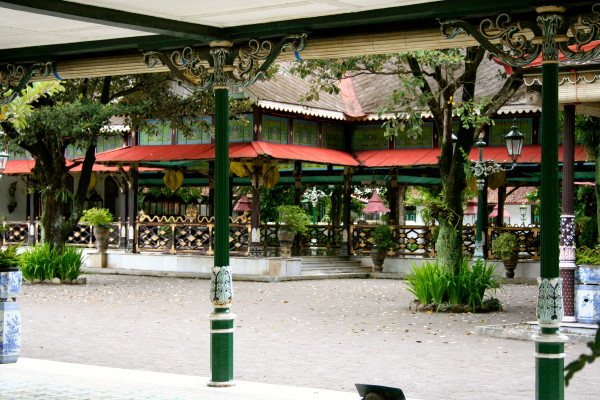 Everything seems in harmony, peaceful. It's amazing how the people of Yogyakarta continues to respect this Keraton (Palace) side by side with modern world.  There are still a lot of traditional celebrations held in Keraton Yogyakarta each year.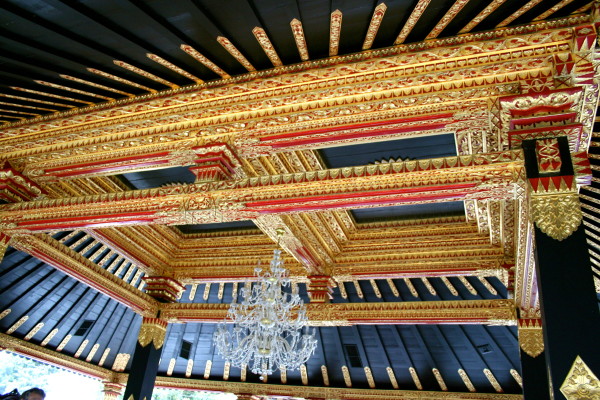 One of the most impressive structures is the splendid Bangsal Kencono or 'golden throne pavilion'. This majestic structure is an excellent example of Javanese artistry and reflects the religious and cultural diversity of the region. The roof of the pavilion is decorated in a red Hindu pattern, with gold Buddhist lotus petals at the base, while the pillars are decorated in green and gold Arabic calligraphy.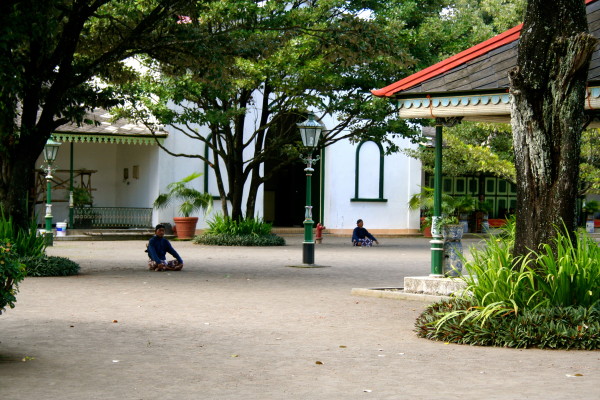 Abdi Dalem. With salary roughly $5.00 or even less per month these Abdi Dalem doing what they love to do, to serve the palace. God Bless them.
Tips for visiting Yogyakarta Palace: 
If you are stay in the hotel nearby, just go there by foot or becak (padicap) and if the hotel you stayed is far away, catch a taxi or rent a car with a driver as the parking can be pain. My experience, it took 30 minutes for the driver to find the parking slot and 30 minutes to get out.

Opening Hours is from 08:00 to 14:00 p.m.
Respectful dress is required and no hats may be worn inside the Palace.
Bring bottle of water in case you are thirsty during the tour (it's a bit of walk).
The ticket cost is IDR 12,500 around AUD $ 1.25, camera and video pass is IDR 1.000 around AUD $1.
Hire a good tour guide. As all of the tour guides in the Palace would not say how much they charge but I suggest you to give them at least IDR 100.000 or around AUD $10, it's worth it especially if it's your first visit. Talking about tour guides, I met this tour guide lady in her 70's, she speaks more than 10 languages. God Bless her.
Daily schedule for performances:Monday – Tuesday: Gamelan music (starting at 10:00 a.m)Wednesday: Golek Menak puppet (starting at 10:00 a.m)

Thursday: Dance Perfomance (starting at 10:00 a.m)

Friday: Macapat (starting at 09:00 a.m)

Saturday: Leather puppet (starting at 09:30 a.m)

Sunday: Wayang Orang (man puppet) and dance performance (starting at 09:30 a.m)

Try to dine at Bale Raos, the restaurant is located in the palace area serving the royal family favourite meals. Definitely one of my favourite restaurants in Jogja/Yogyakarta.
Since you are visiting the Palace, don't miss out Malioboro Street. Go shopping like crazy and make sure you bargain real hard
From Arie's Kitchen Trip 05.01.2014.