Easy Chinese Noodles Recipe
How To Make Easy Chinese Noodles Recipe.
We feel very lucky to be living in Australia. A very multicultural country which gives a huge impact in the culinary field. Untuk versi bahasa kunjungi Resep Mie Goreng ala Chinese Restaurant.
I used to think it was going to be hard finding herbs and spices for Indonesian cuisine. But I'm wrong, it turns out that I can find most of the ingredients at the Asian shop. Even though mostly frozen or in a bottle.
Anyhow, this chinese fried noodles recipe was inspired by the very diverse culinary experiences from china. Almost every restaurant that I visited has its own characteristics, their own style.
Different from Mie Goreng, Chinese Noodles use Chinese rice wine and taste less sweet than Mie Goreng.
Easy to make, quick and delicious. I hope you enjoy the recipe!
Tips:
If you like spicy, add sliced fresh green chillies and mix with soy sauce

Easy Chinese Noodles Recipe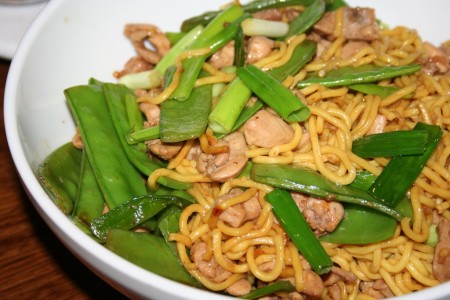 Ingredients:
440 gr egg noodles, this time I use fresh egg noodles.
500 gr boneless chicken, cut into small pieces
5 cloves garlic, finely chopped
5 tablespoons soy sauce
2 tablespoons Chinese rice wine or can be replaced with 1½ tablespoons vinegar
2 tbsp sesame oil
150 gr snow peas (can be replaced with chickpeas), discard both ends
4 spring onion, sliced
Salt and pepper to taste
3 tablespoons cooking oil
Cooking Instructions:
If using dried egg noodles, cook the noodles fist. Drain. Soak in cold water. Drain. Add a dash of cooking oil once drained, mix well. This process is to avoid the noodles sticking together.
Put the chicken slices into a bowl.
Add chopped garlic, soy sauce, Chinese rice wine and sesame oil. Mix well.
Heat oil over high heat, add the chicken. Cook until chicken is completely cooked. Stir occasionally.
Reduce the heat to medium.
Add snow peas, stir briefly.
Enter the noodles, stir slowly. Add salt and pepper to taste. Stir well. Taste.
Chinese fried noodles Serve hot.
Please leave your comment below if you like or have a question about this Easy Chinese Noodles Recipe.