First Day in Tokyo – Japan Holiday Day 1
First Day in Tokyo – Japan Holiday Day 1.
I couldn't sleep the night before, I felt so super excited as I've wanted to go to Japan since so many years ago. Is it the food, the place, the culture or mainly the cherry blossoms ? Let's see ! Untuk versi bahasa kunjungi Hari Pertama di Tokyo – Edisi Liburan di Jepang Day 1.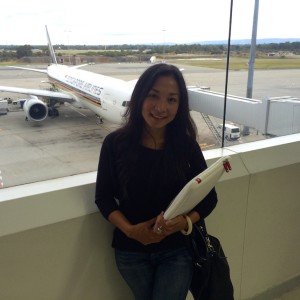 Our plane departed from Perth Airport around 2 pm. The trip seemed too long because the weather is not that pleasant. Let's just say, I didn'treally enjoy the turbulence. From Perth we transit in Singapore, followed by a flight from Singapore to Narita Airport. Flights from Perth to Singapore takes about 5 hours, meanwhile from Singapore to Narita airport takes about 7 hours. I like Changi airport and I've got this fixation that I have to transit there (even in this case at midnight, when not all the shops are open) it's just crazy! I hope my husband don't read this part as he will be happy that I admit this is crazy!
Anyhow, the weather was still very cold when we arrived at Narita Airport even though it was spring. In saying that, we landed at 7am so it didn't help. I can see plenty of sakura pictures along the wall in the airport together with pictures of celebrations during this time. It shows that Sakura (cherry blossom) season is a huge deal in Japan. I believe hundreds of thousands if not millions of people around the world visiting Japan during this time.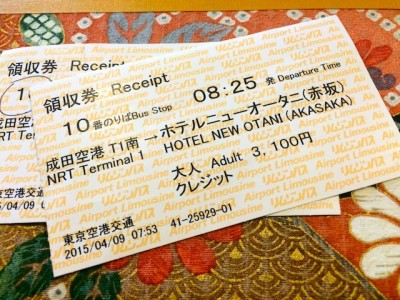 After passing through immigration, we waited for our luggage. It takes a very long time for our luggage to arrive because so many passengers from Singapore. Seems like it was a full flight. After our suitcases arrived, we went out and bought one way bus tickets immediately to Tokyo. We used the Limousine Bus agent because it is much cheaper than by taxi. The price of one way ticket from Narita Airport to Tokyo is around AUD $31.00 or 3,100 Yen per person. While the taxi costs could be up to 21,000 yen or AUD $250.00 depending on whether or not traffic jam. Buses run every 15-20 minutes and stops at the hotel or stations across Tokyo. The bus trip takes an average of 2 hours from Narita Airport to Tokyo.
The bus that we were on only up to New Otani Hotel (Akasaka) which is located approximately 1 kilometre from the hotel where we were staying. With excitement and confidence I chose to turn left from the hotel towards our hotel (at least that's what I thought) which turned out to bring us even further away from our destination. The walk that meant to be one kilometre became 3 kilometres (let's not discuss that part of our trip 😉 ). So my advice is activate your internet / GPS as soon as you walk out of the airport in case you need it.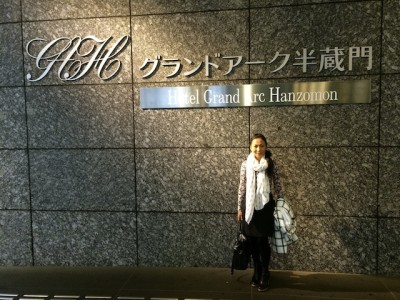 Arrived at Grand Arc Hanzomon Hotel where we stayed for our first 7 nights in Tokyo, we still have to wait for few hours before they allow us to check in. We arrived at the hotel about 10.30 am meanwhile the check in time is at 2.00 pm. Ouch ! And none of the restaurants were open until 11.30am. So we ended up checking out around the hotel (which isn't much) and then sat down in the lobby area. Try to catch little bit more sleep.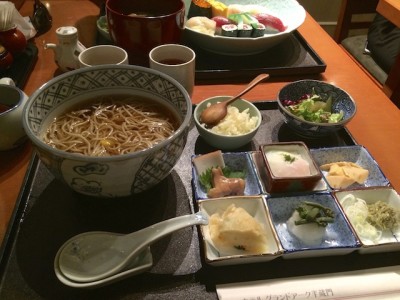 Sushi bento and ramen – 3200 yen (AUD $32.00)
When the restaurants opened, we choose Mon Restaurant located in the basement for our lunch. Mon restaurant served sushi, ramen and other inexpensive typical Japanese food. Sake and Sochu are available at a good price. We then ordered Sushi bento and ramen noodles complete with it side dishes .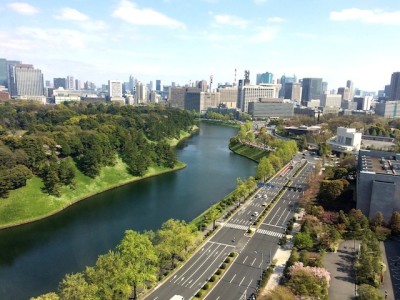 We got a pretty decent rooms located on a high floor. We loved the view very much. On the left hand side we can see part of Chiyoda Park and the rest is Tokyo city including the Tokyo tower. Just beautiful and definitely what we needed. You will surprise that this hotel is inexpensive. It is though type of business hotel but if you just stay in the hotel to sleep like us, I think it's worth it. The room is definitely clean.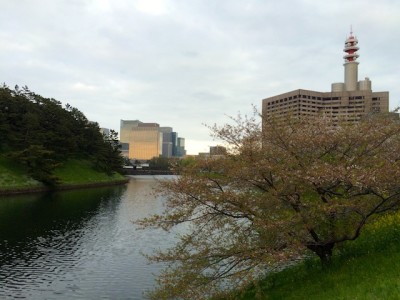 After taking a rest for a few hours, we want to have dinner at Yurakucho station. We walked along Chiyoda park to get there.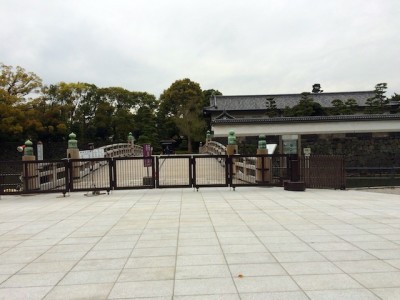 We also pass through one of the Imperial Palace gates. Which of course heavily guarded by their security officers.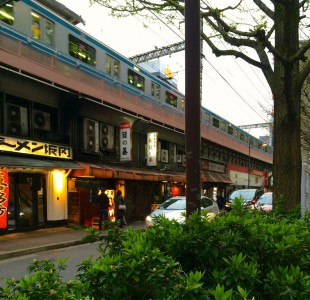 Approximately 20 minutes later, we arrived at Yurakucho . This place is famous for its local restaurants. They are located just below the train tracks. Reminded me a little bit of Jakarta actually, only in Jakarta the restaurant would be located just around the train tracks not underneath. Also Yurakucho definitely a lot cleaner and I will say safer. Yurakucho is the place where many workers in Tokyo spend their night while enjoying their dinner after work. Most of them in groups or at least two people as I hardly see someone come along by themselves. Most of the restaurants / pubs are full. The first restaurant we went even asking if we made a booking.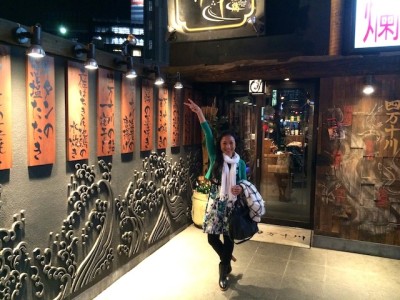 After about 15 minutes walking around Yurakucho area, we saw this restaurant. Ok, please do not ask the name of it as its all in Japanese. But it looks clean and bigger compared with the other restaurants. And I can see the picture of the foods they are serving, so good enough for me. We went in. The inside part of the restaurant is bigger than it looks from the outside. It was little bit quiet at the start and then full of people within an hour. That night we ordered many small portion of food (typical Japanese dishes). We glance here and there to see what other people's having. Just because we wanted to try something different, something that we have never had before.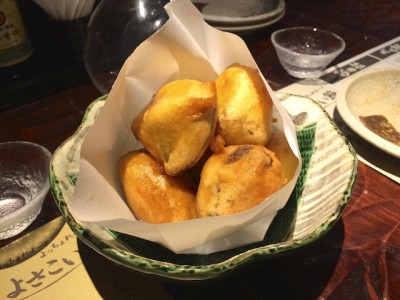 Our first order arrived, Fried Sweet Potatoes. It sounds boring but believe me, it tastes absolutely divine.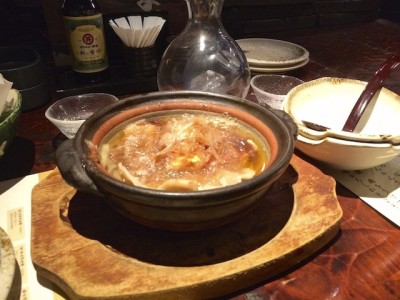 Tosa Style Soup (Hmmm…Tosa, maybe that's the name of the restaurant). Slightly sweet and savoury taste, definitely different with Miso soup. It's thicker and tastier. Suitable for cold weather.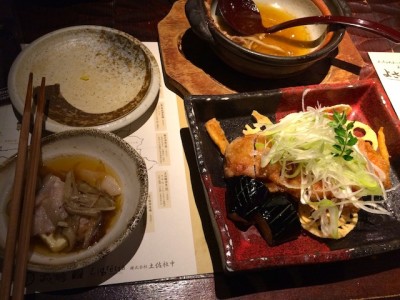 Shimanto Golden Fried Chicken. This fried chicken similar with chicken katsu, served with sliced ​​spring onion, sautéed eggplant and other vegetables. Delicious.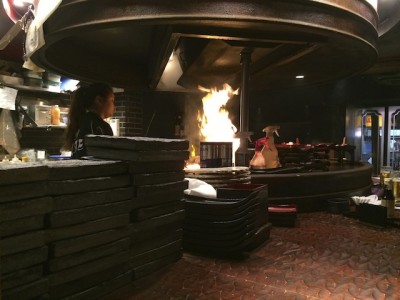 We were full by the time we finished the third meal. But because we saw a lots of people ordering smoked Bonito fish, we felt like we have to order one. The way they cook Bonito fish is just smoking them using dried rice straw. The very short cooking process makes the fish texture soft and remains raw inside.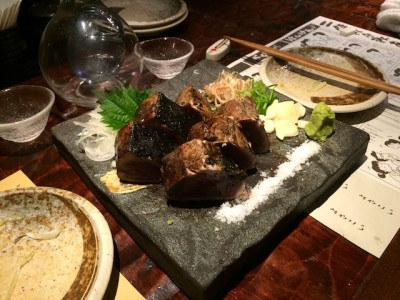 Smoked Bonito fish served simply with wasabi, salt, sliced raw garlic and white radish. More character than sashimi.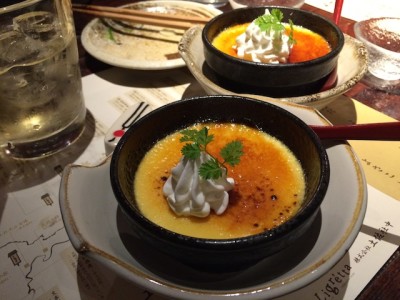 Either because the weather is so cold or because we are both very good eaters, we ordered Creme Brûlée for desert. Man, the size is just doubled the normal creme brûlée I normally have.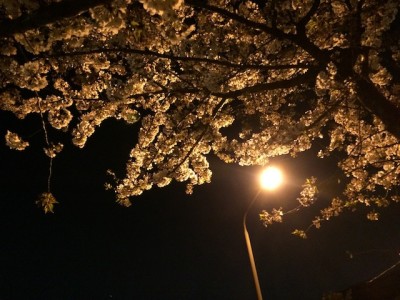 On the way back to the hotel, we took some time to enjoy the beauty of the cherry blossoms along the street. The reflection of the street lights makes the sakura even more beautiful at night. Kind of romantic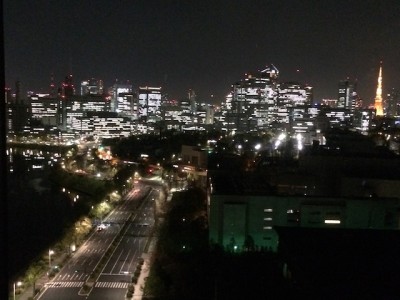 Arrived in the hotel quite late, around 11.00 pm. The view from our hotel room at night just amazing. We can clearly see the Tokyo tower. I can say that our first day in Tokyo was amazing. Oyasumi (goodnight) …… zzzz … zzzz..zzzz ..
Ps :
I highly recommended the Grand Arc Hanzomon Hotel because of the location. Only about 5 minutes from the Hanzomon metro (underground railway) exit door number 1. Close to Chiyoda Park, Imperial Palace and Yasukuni Shrine. The price is inexpensive, depending on the season. There are plenty of small restaurant around and also convenient store including 7Eleven.
Check out our coming post about our amazing trip to Japan. Please feel free to throw a comment or two bellow if you have any question about trip to Japan. Arigato

Arie's Kitchen Travel Diary 09.04.2015