Spicy Eggplant Recipe Indonesian Style
Spicy Eggplant Recipe Indonesian Style or Balado Terong Ungu.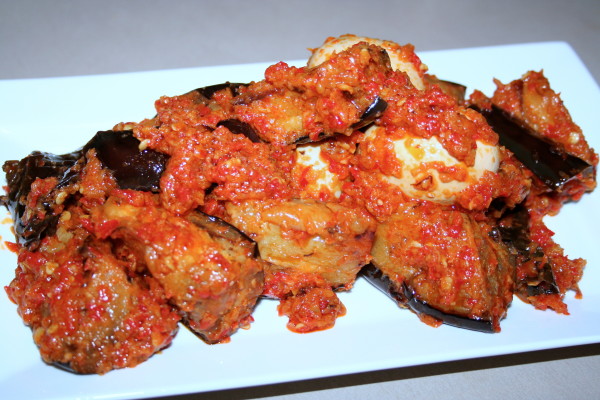 For you guys who are fond of eating spicy, this spicy eggplant recipe is a must try. Especially if the eggplant is half-cooked by frying or baked first before mixing with the paste. Hmmmmm…..yuummmm ! Oh, you can adjust the amount of chilli of course! Untuk versi bahasa kunjungi Resep Balado Terong Ungu.
My parents use to cook eggplant as a soup. Using coconut milk, dried shrimp and we ate them with rice and sambal. Usually we ate them after school oh, I swear that I can smell the dish from couple of blocks from our house. My mum's cooking is amazing, it seems like she has got magic in her hand. Cooking for sale in the market for over 40 years might help

Eggplant tastes very delicious cooked in curry, any pasta dish, use for dipping sauce, soup or even just fry them and serve with steamed rice and sambal. The silky and succulent texture is very yummy for lasagne too. You can see many of Italian and Mediterranean cuisine uses this shiny and purple colour vegetable. Even more, some vegetarians uses eggplant as substitute for meat. I can see that working really well.
Spicy Eggplant Recipe Indonesian Style

Recipe type:
Vegetables + Egg
Ingredients:
500 gr of purple eggplant, wash and slice as desire
12 small eggs ( or 6 large ones )
2 Bay leaves or salam leaves
1 tsp sugar
1 tablespoon sweet soy sauce
100 ml of water
3 tablespoons cooking oil for sauteing
Cooking oil for frying or roast the eggplant
Paste :
7 big red chilli , seeded
10 small Asian Shallots ( or 4 French onion )
5 garlic cloves
1 large red tomatoes
Salt to taste
Cooking Instructions:
Boil the eggs (hard boiled), peeled, and then set aside once done.
In the mean time, fried or roast the eggplant that has been cut only until half cooked, set aside.
Heat 3 tablespoons cooking oil then sauté the paste until beautifully fragrant.
Add the bay leaves , salt , sugar , sweet soy sauce and water, stir well.
Add eggplant that has been half-cooked and egg, stir occasionally until cooked and the liquid is thicken, turn off the heat.
Serve with steam rice.