Easy Japanese Beef Recipe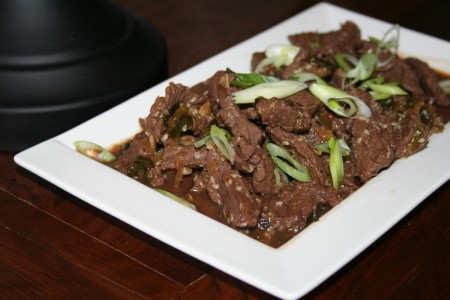 Easy Japanese Beef Recipe.
Easy Japanese Beef Recipe.
Going to Japan is definitely not only for sight seeing. The food is another attraction well worth to experince. When we were there recently, we only ate sushi, ramen , soba and sashimi few times. As we can get those types of food nearly everywhere even in Australia. The rest, we tried different food that we never had before, let's say food adventuring such as Okonimiyaki. Untuk versi bahasa silahkan kunjungi Resep Tumis Daging Sapi ala Jepang.
Okonomiyaki is a Japanese savoury pancake containing a variety of ingredients. The name is derived from the word okonomi, meaning "what you like" or "what you want", and yaki meaning "grilled" or "cooked". Okonomiyaki is mainly associated with the Kansai or Hiroshima areas of Japan, but is widely available throughout the country. Toppings and batters tend to vary according to region. Tokyo okonomiyaki is usually smaller than a Hiroshima or Kansai okonomiyaki. This dish is also famous in the Osaka region.
We also had takoyaki, a ball-shaped Japanese snack made of a wheat flour-based batter and cooked in a special takoyaki pan. It is typically filled with minced or diced octopus (tako), tempura scraps (tenkasu), pickled ginger, and green onion. Takoyaki are served with takoyaki sauce, similar to Worcestershire sauce and also mayonnaise, sprinkled with green laver (aonori) and shavings of dried bonito (katsuobushi). There are many variations to the takoyaki recipe, for example, ponzu (soy sauce with dashi and citrus vinegar), goma-dare (sesame-and-vinegar sauce) or vinegared dashi. It's a must to try street food in Japan.
And so Yakitori, grilled chicken, is commonly a Japanese type of skewered chicken. The term "yakitori" can also refer to skewered food in general. Kushiyaki (skewer grilled), is a formal term that encompasses both poultry and non-poultry items, skewered and grilled. Both yakitori and kushiyaki are used interchangeably in Japanese society.
We also attended a kind of Cooking Class in Japan during our holiday visit. It's more like a cooking visit actually, as it was at someone's home. So we experience cooking Japanese food at Japanese home and had dinner together there. It was an amazing experience for us. Worth to look at if you are interested at cooking and food just like I do

Anyhow, this easy Japanese beef recipe is one of my favourites. If you want a full flavour to it, you can marinated meat over night in the refrigerator. But if you do not have time, one hour marinated is good enough even though the taste is little bit different.
To make roasted sesame, what you need to do is just heat a small size pan. Then fry the sesame seeds without oil until they look shiny. Make sure they don't burn. Or you can just buy roasted sesame from the shop.
If you like Japanese food, check out our Yakiniku Beef Recipe.

Easy Japanese Beef Recipe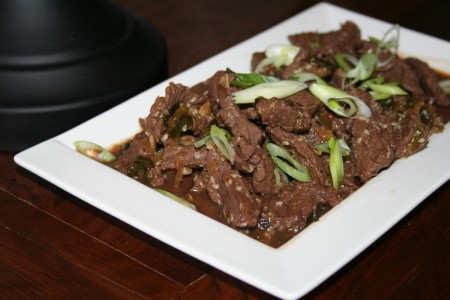 Ingredients:
600gr lean beef , thinly sliced
3 cloves of garlic , finely chopped
1 tablespoon grated fresh ginger
2 spring onions, sliced ​​into small pieces
1 tsp brown sugar ( can be replaced by white sugar/raw sugar)
50 ml soy sauce ( I like to use Kikoman )
1 teaspoon sesame oil
3 tbsp mirin sauce
3 tablespoons sake
3 tablespoons cooking oil
2 tablespoons toasted sesame seeds
1 spring onion, sliced ​​diagonally for serving
Cooking Instructions:
Prepare a bowl, mix together the chopped garlic, grated ginger, chopped green onions, sugar , soy sauce, sesame oil and toasted sesame seeds . Make sure all are well blended.
Add the sliced ​​beef . Mix well, if necessary, use your hand .
Cover the bowl, keep the meat that has been mixed with the sauce in the refrigerator for two hours .
After 2 hours in the refrigerator, strain the beef. Keep the leftover marinade meat sauce in a bowl .
Mix mirin sauce and sake together with the rest of the marinade sauce.
Heat the oil in a pan, stir-fry the beef until half cooked.
Add rest of marinade sauce . Bring to boil and continue cooking until beef well cooked .
Taste. And then turn off the heat .
Move the meat to a serving dish, sprinkle with sliced spring onion on top.
Enjoy Japanese beef with warm steamed rice.

Please leave a comment below if you like or have any question about Easy Japanese Beef recipe above! Thanks